Feels Like Home... Because It Is
Maintenance-Free Senior Living in Edina, Minnesota
Aurora on France has created a thriving and connected community in the heart of Edina, Minnesota. Through our Independent Living, Assisted Living, Memory Care, Transitional Care, and Stay by the Day programs, our experienced and knowledgeable staff deliver the highest level of service to cater to you or your loved one's individual needs.
Our premier location in Edina, Minnesota, is situated near Rosland Park. Go for a dip at the Edina Aquatic Center, challenge a friend to a game of pickleball or tennis, or simply stroll the tree-lined walking trails. Beyond your neighborhood park, regularly scheduled outings are always a fun way to spend an afternoon. Admire, shop or take art classes at the nearby Edina Art Center. Visit popular retailers at Southdale Shopping Center or Galleria,  just half a mile away. Planning a dinner party with friends? Pick up groceries from Lund's & Byerly's or Whole Foods Market. Or skip cooking in lieu of a night out on the town with dinner at one of many celebrated restaurants, such as Tavern on France, Cov Edina, The Good Earth, Salut, Red Cow, Cahill Bistro, or Crave American Kitchen & Sushi. Life is for living, and when you make your home at Aurora on France, you live well.
Visit our Cornerstones page to learn more about the six foundational concepts and programs that drive our dedication to the well-being and continued growth of our residents.
Live It Up Here
We Have All the Perks
Aurora on France is a place of beauty inside and out. Journey to our outdoor patio and revel in the masterpiece that is nature. Take in gorgeous views of trees, seasonal garden planters and a tranquil nearby pond with Rosland Park in the backdrop. Our Skyview Community boasts its own private outdoor patio to enjoy in a secure niche of Aurora on France. Indoors, you'll find spaces equally versatile and comfortable. In the Braemar Club Room, attend classes, events, and happy hours. Enjoy the scene from indoors or outdoors at our distinct and vibrant corner of the community on France Avenue – neighbors are always strolling by or walking dogs. Catch a movie or live sporting event in the Crosstown Theater. The impressive size of the Cahill Community Room allows our Active Living Team to invite and host a wide variety of performers and entertainment. The choices are many – and they're all yours.
Community Amenities
Heated Underground Parking
Large Patio with Fireplaces
Outdoor Grilling Area
Movie Theater with Comfortable Seating
Living Room with Library
Club Lounge and Billiards
Indoor Fireplaces
Community Room with Performance Stage
Grand Piano
Fitness Room with Exercise Machines
Onsite Beauty Salon
Onsite Chapel
Skyview Community Spa Room
Aurora on France Activity Bus
Here When You Need Us
Exceptional Daily Living
At Aurora on France in Edina, Minnesota, our experienced and knowledgeable staff is dedicated to delivering the best level of care possible to you or your loved one. Here, our head chef holds monthly coffee meetings with residents to discuss meal plans and field input. Enjoy a fun-filled workout at our fitness center. Go on scheduled outings to popular destinations in Edina, as well as trips into nearby Minneapolis. At Aurora on France, there's no end to your options.
Stellar Services
Spa With Massage, Nail & Skin Care Services
Beauty Salon & Barbershop
Restaurant-Style Dining
Fitness Classes
In-Room Dining
Storage Units Available
Scheduled Transportation
Calendar of Organized Activities & Events
24-Hour Emergency Maintenance
Pet-Friendly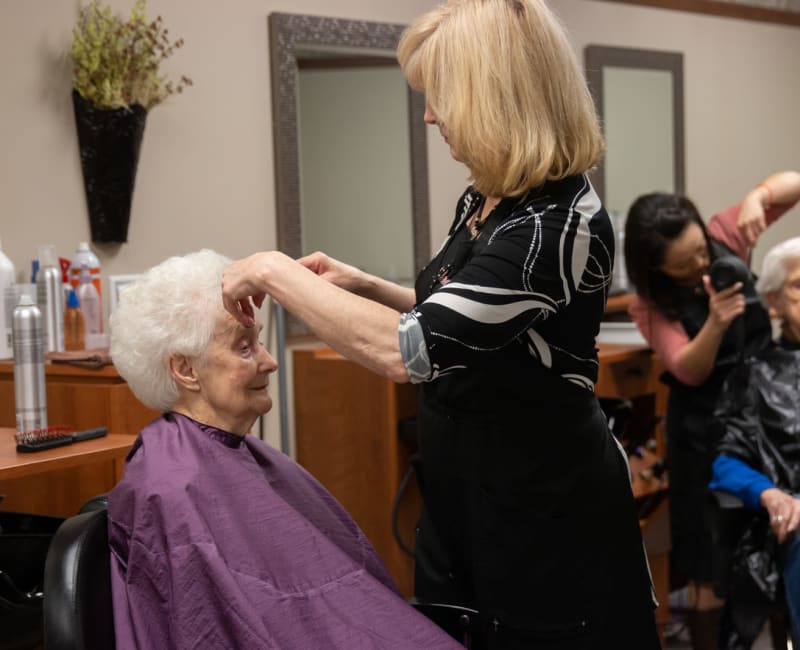 Savor the Quality
Tasty Dining
At Aurora on France, we offer meals that are as delicious as they are healthy. Here, we understand that dining is also a social activity and strive to ensure you or your loved one feels at home in our vibrant community. Staff is informed about residents' dietary restrictions and food preferences. Our talented chefs take pride in their craft by preparing menus featuring a full breakfast, lunch, and dinner that are served each day with tableside, restaurant-style service.
In addition to the communal dining room, residents have the option of in-room dining, and onsite catering for special events. Guests are always welcome with advance notification, too.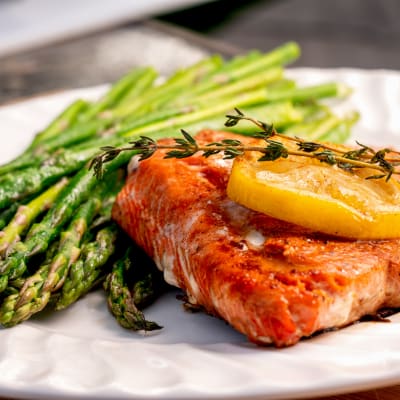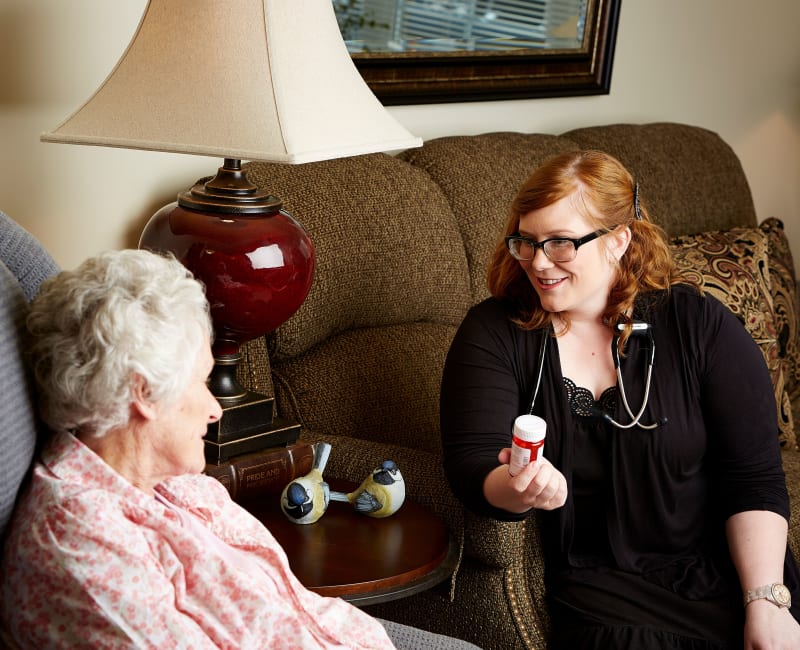 Personal Care Services
When you choose assisted living or memory care at Aurora on France Senior Living, you have a large menu of personal and health care services available to you. Our care team is in the building 24/7 and is available to help for scheduled and emergency needs. When you move into our community, our registered nurse will meet with you and your family to discuss your needs and build a care plan to help you stay as independent as possible. Some of those care services may include (but are not limited to):
Assistance with Dressing & Grooming
Managing Medications
Assistance with Bathing
Escorts to Meals & Activities
Blood Pressure Checks
Diabetes Support Services
Supplemental Nutrition Assistance
To learn more about the personal and health care services available at our community, contact us today.